MARCH 10TH , 2022 10:00AM-6:00PM
VI chemical peels work by exfoliating your skin and stimulating the production of new proteins. The procedure is commonly used to treat signs of aging, improve skin texture, eliminate acne/acne scarring, and correct pigmentary issues. We will be hosting a VI chemical peel event on March 10th from 10am-6pm. Take advantage of $50 off per chemical peel, light bites, special drinks, and giveaways!Be sure to stop by the Truly O2 booth at the event for samples of our favorite oxygenated skincare line. You do not have to be peeled on this date. Please call 303-641-8670 to schedule your peel time. Purchases can be prepaid to use at a later date. If you cant make it in person, give us a call day of to take advantage of our peel discount. 
SPECTACULAR HOLIDAY EVENT
JOIN US FOR THIS SPECTACULAR HOLIDAY EVENT ON DECEMBER 4TH FROM 4PM-8PM AT OUR NEW LOCATION AT 1125 NEON FOREST CIR SUITE 100 LONGMONT, CO 80504.
Local businesses come together to provide you with quality skin care and body products, services, jewelry and handmade goods, clothing and accessories, perfect for the season of giving. Whether you are picking up something nice for yourself, or a family member or friend... We will have something for everyone. We will also be offering complementary B12 shots, chair massages, intuitive readings along with lite bites and wine.
RAFFLE RAFFLE RAFFLE!!!
OVER 15K IN GIVEAWAYS! THIS IS OUR LARGEST GIVEAWAY TO DATE!
In the spirit of giving... Everyone who brings a non-perishable food item will automatically receive one raffle ticket. Bring a friend and receive an additional ticket. All donations will go to Community Food Share.
Each of our vendors are donating an item for an incredible swag bag. Be one of the first 150 people to register for the event and a swag bag will be reserved for you and distributed at the event! Each swag bag is valued at over $300.00!
SAVINGS SAVINGS SAVINGS!!!
The following discounts will be offered the night of the event only. You may prepay for as many services as you desire. This is our lowest price on all services and products for the year!
Botox $10.00 per unit!

Juvaderm $100.00 off per Syringe!

Latisse $25.00 off!

Eyelash Extensions $50.00 off!

Lash Lift $25.00 off!

Vi Chemical Peel $50.00 off!

Hydrafacial $50.00 off!

Laser Hair Removal $50.00 off!

Permanant Cosmetics - Lip Blushing, Eyebrow Microblading $100.00 off!

Platelet Rich Plasma Procedures $250.00 off!

Vitamin IV Cocktails $25.00 off!

Vitamin Injections, B12, Vitamin D, MIC $10.00 off!

Dr Hauschka Skin Care 25% off!

Neocutis Skincare 25% off!

Revision Skincare 25% off!

Katari Skincare 25% off!

Color Up Therapeutics Skincare 25% off!

Sorella Skincare 25% off!

J Marie Signature Skincare 25% off!

Rocky Mountain Soap Market 25% off!

Hush & Hush Luxury Nutraceuticals 25% off!

Quicksilver Nutraceuticals 25% off!

Mandara CBD 25% off!
Don't miss out on your swag bag and register today!
We look forward to seeing you in our new space!
Thank you for your continued support!
Jessica
Jmaire Skin Studio
303-641-8670
Unity in the Community is the final festival of the Longmont summer! Five amazing nonprofits, each impacting and improving the Longmont community, were selected to receive funds at Unity in the Community. Thanks to generous donations from the Community, were were able to help raise over 7500.00 for local non profits! We were thrilled to introduce our services to the community by offering free B12 injections, mini facials and massage. We are proud to serve the Longmont community. Not only do we have a business in Longmont, we also live and raise our famalies in this wonderful community. Thank you Longmont Chamber for organizing a wonderful event!
On April 21, 2018 The Fire House Art Center hosted their fundraising event, The Glitz and Glam Gala. Through ticket sales, a silent auction and a live auction the generous donor's helped The Firehouse Art Center raise $14,000. The proceeds will benefit programs such as The Art Attack and will provide other opportunities to the community of Longmont. J Marie Skin Studio is proud to help sponsor the event. We thank The Firehouse Art Center for inviting us to do some 1920's makeup! We had a wonderful time!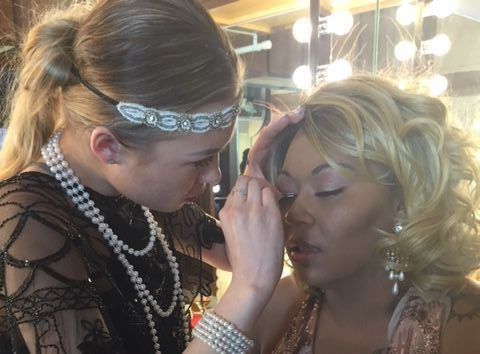 Thank you for inviting J Marie Skin Studio to be a part of this wonderful event!
J MARIE SKIN STUDIO HOLIDAY SHOP AND SIP
Come visit my new studio!
Come get educated, have lite bites and green beer.
$50.00 off any chemical peel that day only.
Call the office to reserve your time slot. 303-641-8670
*Services performed same day.
VI peel is the one peel you MUST try for stunning skin!
Please join us for light bites, refreshments, and amazing deals on VI Peels! Learn more about how chemical peels can help you acheive radiant skin!
$65.00 off any VI Chemical Peel purchased on April 30th! There is not limit, so stock up and save.
Register to win a free VI Peel!
HOLIDAY SHOP AND SIP AT J MARIE SKIN STUDIO
It's a Party and you are invited!
Come join J Marie Skin Studio in celebrating the Holidays.
We will have Lite Bites, Beverages, Beer, Wine and Special Event Only Savings.
GREAT SOUNDS & TASTY BITES AT
Every Monday in the summer we have the largest food truck event in Northern Colorado. Thousands come to bask in the summer sun while listening to amazing bands and munching on food from a variety of culinary food trucks. Over a dozen vendors line the park with offerings such as wood-fired pizza, street tacos, BBQ, burgers, Asian, Greek and so much more.
Venus de Miles is Colorado and Illinois' first and largest women's bike ride and finish line festival. Multiple course options welcome all ability levels and ages to this celebration of sisterhood and community.
The event benefits Greenhouse Scholars http://www.greenhousescholars.org, an education non-profit that cultivates extraordinary college students from low-income communities. The program supports, inspires, and drives Scholars to be catalysts for change in their lives, their families, and their communities - forever
We are delighted to take part in the enrichment of our communities and our youth. We thank you for inviting J Marie Skin Studio to partner with you and offer mini facials at the finish line festival. We met so many inspiring and incredible women and we cannot wait to do it again next year!
Special thanks to Tracy Keseric and Olivia Chambers for all of your hard work and support!
ONE YEAR ANNIVERSARY AND RIBBON CUTTING CEREMONY AT J MARIE SKIN STUDIO
Register today to receive your free swag bag valued at 250.00